EMBROIDERED and PRINTED SWEATSHIRTS
Branded sweatshirts from Anagi are a tremendous way to boost team spirit and identity. At Anagi Embroidery & Screen Printing we strive to provide the highest quality, unique garments to allow businesses, sports clubs, schools and societies to enjoy these opportunities.
Anagi Embroidery and Screen Printing have an extensive range of sweatshirts and hoodies to choose from, all of which can be personalised with text and images. The garments all come in a wide variety of sizes, styles, fabrics and colours, to meet any requirement for men, women and children.
REASONS TO CHOOSE EMBROIDERED and PRINTED SWEATSHIRTS
Branded sweatshirts offer many benefits to businesses, clubs, schools, colleges and universities: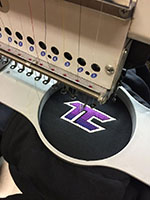 perfect if you work outdoors some or all of the time;

very useful for training or warm-ups/cool-downs when you play sport;

quality impression created at work, school or play;

portrays a smart, consistent image;

helps make team members feel they 'belong' and are part of a 'professional' outfit;

excellent and durable for school-wear.
PRODUCTION METHODS
Embroidery, screen printing and heat transfer are all available, so the choice of what type of finish you want is yours. We recommend considering the benefits of each one and the impact it will have on the presentation of your team identity and the practicalities of your sport.
In addition, text and images can be placed on various locations of most garments. The left breast is the standard location but on top of this you can choose the right breast, chest, back, and sleeves. Any combination of these is possible so you can make your design truly unique.
DELIVERY
When you order from Anagi, we'll do our utmost to get your products ready in the shortest possible timeframe so they are ready for dispatch or collection. Don't let our commitment to quick delivery fool you though; we always monitor quality with great care to ensure your satisfaction. Products can be delivered anywhere in the UK.
The garments come in a wide variety of colours, to meet all requirements. We stock many style variations and have sizing to suit large and small, male and female. This means that any customer requirement can be met.


Essex based, in Basildon, Anagi Embroidery & Screen Printing gives you the opportunity to create your own bespoke embroidered and printed garments. Our product range is extensive, including everything from T-shirts to work-wear. Each can be personalised with your choice of design, making them unique. We will double-check to ensure that the finished products are of the very highest quality every time you order.
If you have any questions about printed and embroidered sportswear, or would like to discuss your branded design ideas, please contact us.