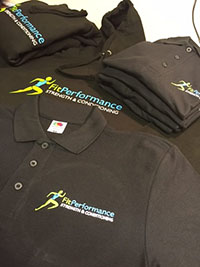 PRINTED AND EMBROIDERED POLO SHIRTS
Anagi printed and embroidered polo shirts make fantastic leisurewear, workwear, sportswear and even school uniforms. We offer a wide choice of different ranges to suit all needs, all with an extensive choice of colour. We have a full range of styles and sizes for men, women and children.
When it comes to personalisation, there are several separate ways to get your own designs onto the polo shirts. Firstly, embroidered polo shirts enable us to create highly detailed designs with quality thread. Secondly there is screen printing; this involves utilising a specialist ink to create a design directly on the material. Finally, a third option available with some of the styles of polo shirt is transfer printing. This creates images on vinyl and uses heat to bond them to the material.
The wonderful thing about our service is you can add personalised brand touches to most parts of a polo shirt. This includes the sleeves, the back, body and the left or right breast. You can add all kinds of artwork and text too, giving you the chance to be creative to get the design you want.

With our website you can select the style of garment you want, upload your images and text, then see what it will look like when finished. This will really help you to create your perfect design.
We do all printing and embroidery in-house, utilising our high-quality equipment and relying on our highly experienced team. Orders of all sizes are welcome, from individual items to bulk purchases. We always strive to provide the very best prices and value, regardless of the quantity you need.
If you do order from us we will do our best to get your products ready in the shortest possible timeframe so they are ready for dispatch or collection. Don't let our commitment to quick delivery fool you though; we always monitor quality with great care to ensure your satisfaction. Products can be delivered anywhere in the UK.

Essex based, in Basildon, Anagi Embroidery & Screen Printing gives you the opportunity to create your own bespoke embroidered and printed garments. Our product range is extensive, including everything from polo shirts to headwear. Each can be personalised with your choice of design, making them unique. We will double-check to ensure that the finished products are of the very highest quality every time you order.
If you have any questions about printed or embroidered polo shirts, or would like to discuss your branded design ideas, please contact us..