ANAGI EMBROIDERED and PRINTED PRODUCT RANGE
Branded or personalised custom apparel, headwear and promotional products from Anagi are a terrific way to boost awareness of your brand and really feel like you're are part of the team. At Anagi Embroidery & Screen Printing we strive to provide the highest quality, unique products to allow businesses, clubs, societies and individuals to enjoy these opportunities.
Anagi Embroidery and Screen Printing have an extensive range of products to choose from, all of which can be personalised with text and images. They all come in a wide variety of sizes, styles and colours, to meet any requirement.
Embroidered and Printed Apparel
Clothing for all types of requirement are available for personalising with your brand. We have sizes and styles for men, women, boys & girls. Embroidered and printed clothing includes:
Headwear Range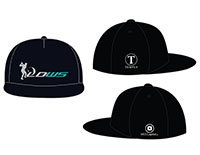 Anagi personalised, custom embroidered caps and other hats make fantastic leisurewear, workwear or sportswear. We offer a wide choice of different ranges to suit all needs, all with an extensive choice of colour. We have a full range of styles and sizes for men, women and children.
Not all embroiderers can produce personalised caps. At Anagi, we have invested in the machinery required to undertake this work. In fact, we often produce the caps for other embroiderers; so miss out the middle-man and come straight to Anagi for best value.
Personalised caps have become very popular with businesses, clubs and societies to brand their team members at events. Personalised golf caps make great souvenirs.
Range of Other Products
Also available are an extensive range of mugs, bags, aprons and industrial workwear (e.g. hi-viz jackets), all of which can be printed with your branding or design of choice.
Printing and Embroidery Methods
At Anagi, we use three methods of placing your logos, brands and deigns onto apparel. These are:
dye-sublimation (heat transferred) printing;

screen printing;

embroidery.
For more information about each method, see the news/blogs section of this site.
Essex based, in Basildon, Anagi Embroidery & Screen Printing gives you the opportunity to create your own bespoke embroidered and printed garments and promotional goods. Our product range is extensive, including everything from T-shirts to work-wear. Each can be personalised with your choice of design, making them unique. We will double-check to ensure that the finished products are of the very highest quality every time you order.
If you have any questions about the vast Anagi product range, or would like to discuss your branded design ideas, please contact us without delay.